Congratulations to Holiday at Home Grand Marshal for 2021,
Bob & Christy Montavon!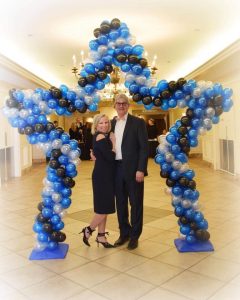 We are both from the Dayton area, but lived some time in Cincinnati before moving to Kettering more than 25 years ago. We moved in to the Oak Creek neighborhood and have lived here ever since. The neighbors are fantastic and made us feel a part of the group right away. We joined our church, St. Charles Borromeo, a community pool, Oak Creek Swim Club and enrolled our first child at John F. Kennedy elementary. We raised three kids in Kettering and they all received an excellent education that afforded them the ability to obtain college degrees in Pre-med, Education and Theology. And, now we have two granddaughters with another on the way. They bring us great joy.
I was an accountant when we moved here. We came for a job that I took at the Iams Company. A little later I changed careers and I am now the owner of Resolute Wealth Management in Centerville. Christy was a teacher, but at the time of our move, was a full-time mom. Once the kids were in school she got involved with the PTO at JFK which led to her return to teaching as a Kindergarten teacher at JFK. She has been there over 15 years.
We have been very involved in our kids activities and have always felt a need to contribute. We got involved at church. Christy in Bible Camp and the Mom's group and I as a Lector. Which led to additional activities such as Religious Education, Youth Group, CYO sports, Scouts, Committees, Councils and Mission Trips. Our church is a big part of our lives and has helped us through some very difficult years. We remain deeply devoted to St. Charles.
Christy has volunteered at JFK and their PTO assisting with fundraising, tutoring and many projects for the last 25 plus years. I helped where I was needed and then got involved in Cub Scouts at JFK as a Den Leader and Cub Master and later as a Scout Master at St. Charles. Christy was very involved with socials and swim team at Oak Creek Swim club and was president of the club for a couple years. We were both very active in our kids activities through school whether it was theatre, sports, dances, music etc… For a number of years now, Christy has been very involved with prep and delivery of meals for the Kettering Backpack Program.
I was invited to join the Dorwood Optimist Club over 20 years ago and have been a member ever since. I was Treasurer a number of years, then President and then Lt. Gov. of the Ohio District of Optimist Int'l. Dorwood is an amazing group of generous men in the community who are dedicated to supporting our youth. Through members of the club I was invited to attend the Kettering Leadership Academy which led to my service to the Kettering Parks Foundation Board for a number of years. Christy joined the Kettering Noon Optimist club which led to her involvement with summer camps at Good Works Farms for the last several years.
They say when you give you get back much more in return. That could not have been more obvious two years ago when we lost our precious daughter Madeline in a horrible car accident. So many people from Church, School, Optimist and our community poured their hearts out to us. I really don't know how we could have kept our sense of hope without all that love.
When we came to Kettering we never expected we would still be here. And now that our kids are grown, we wonder where we should go next, but we cannot leave. We are very Blessed and thank God for all that he has provided us. 
Nominate an outstanding citizen! Holiday at Home is accepting nominations of persons from the south Dayton area to serve as Grand Marshal of the Holiday at Home activities held over the Labor Day weekend.
If you know of a person who should be placed in nomination, submit a brief biography and list of accomplishments, highlighting community involvement and a history of volunteerism. Past nominees may be re-nominated. Nominees must be residents of the cities of Beavercreek, Bellbrook, Centerville, Kettering, Miamisburg, Moraine, Oakwood or West Carrollton; or the townships of Beavercreek, Miami, Sugarcreek or Washington Township.
PAST GRAND MARSHALS
1965     Claude Cannon
1966     BG Glen McClernon
1967     Dr. G. Douglas Talbott
1968     James McConnaughey
1969     Vic Cassano
1970     John Shyrock
1971     Jack Wymer
1972     Cal Mayne
1973     Clark Haines
1974     Dwight L. Barnes
1975     Dr. Kenneth Arn
1976     Paul Shartle
1977     Chester Roush
1978     Don Williams
1979     G. Harold Bayless
1980     James Widman
1981     Glendora Hipple
1982     Urban Goecke
1983     Vernon "Skip" Lowe
1984     George Lehman
1985     Mack Hummon
1986     Charles Lathrem
1987     Melba Hunt
1988     Ervin Welch
1989     Robert & Marie Kilroy
1990     Dale & Virginia Kress
1991     Roger & Nancy List
1993     Roger Bauser

1992     Leigh & Sally Groby
1994     Al Jordan
1995     Jerry Barnett
1996     Walter Pettit
1997     Vince Chalecki
1998     Carolyn Wittmann
1999     Justin Stachler
2000     Tony Huesman
2001     Dick & Marcia Hartmann
2002     Kay Riordan
2003     Bill Mercer
2004     Jim Trent
2005     Bernie Wannamacher
2006     Bill & Marynel Bradley
2007     Jim Coleman
2008     George Bayless
2009     Pam Cochran
2010     Charles Goodwin
2011     Marilou Smith
2012     Don Parker
2013     Bob Ellis
2014     Charlie & Jackie Hazell
2015     Charles Schuerholz
2016     Jack & Arlene Akerman
2017     Frank Spolrich
2018     Neil & Willa Jean Smalley
2019     Jim Berlon
2021     Bob & Christy Montavon