Congratulations to Holiday at Home Grand Marshal for 2023,
Jamie Jarosik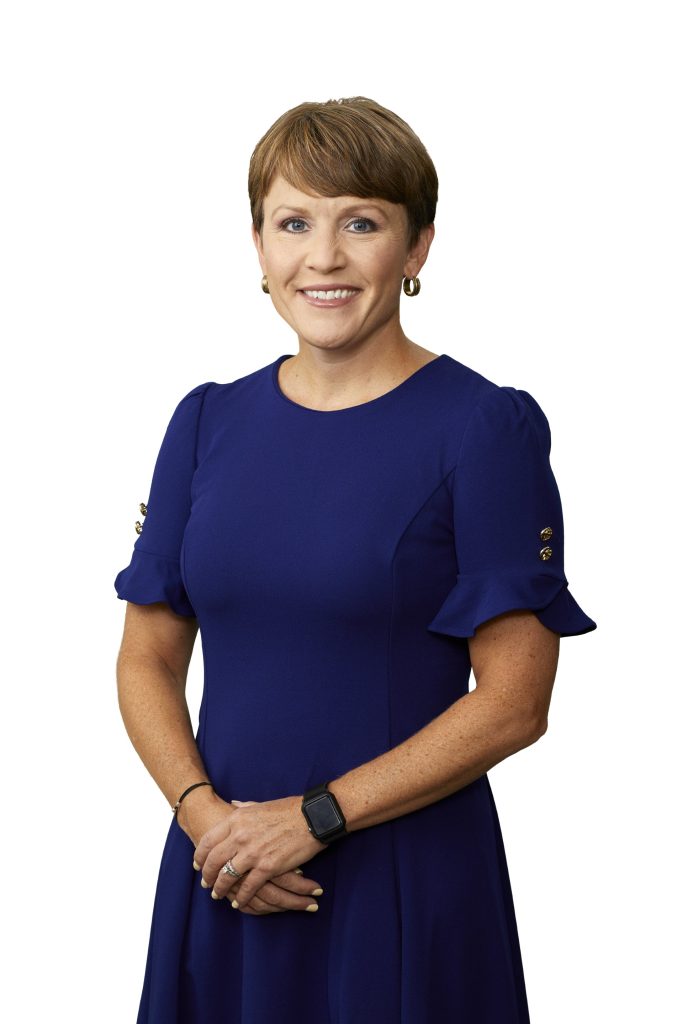 Jamie Jarosik is the Meteorologist for 2 NEWS Today on WDTN, Channel 2 and the Dayton CW channel.
Jamie grew up right here in Kettering, but her career has taken her all over the country. She's lived and forecasted in Kansas City, Missouri… Helena, Montana… Rockford, Illinois… and Charleston, West Virginia. But Kettering is home! When Jamie and her husband moved back to Kettering in 2006, she went straight into the city's volunteer office to see how she could give back. She started her volunteer career as the city photographer for a couple of years. She has emceed countless events like the Mayor's Ball, the Go Fourth! Independence Day celebration, the Mayor's Christmas Tree Lighting and the Juneteenth Community Celebration. She has voiced and appeared in many of Kettering's promotional videos. She is the emcee of the Kettering Noon Optimists Divas Day Out, and has donated her time to the Kettering Police Foundation's Dancing with the Stars fundraising event. Jamie is a 2009 graduate of the Kettering Leadership Program and has served on the City of Kettering's Parks, Recreation and Cultural Arts Advisory Board for 15 years. Academically, Jamie is a 1994 Fairmont graduate who then attended Ohio University and received a Bachelor of Arts degree in Broadcast Journalism. She studied meteorology through Mississippi State University, completing the Broadcast Meteorology Program.
In January 2003, Jamie was voted "Favorite Weather Personality" in a Dayton Daily News Reader's Poll. She again won this distinction through a social media contest in February 2016. Jamie was honored with the Dayton Business Journal "40 Under 40" award in March 2016. Jamie is a breast cancer survivor and advocate for educating people on the importance of self-checks and mammograms. Jamie and her husband, Ken, have three children in three different Kettering schools, which also keeps her busy! Jamie truly believes Kettering is the best hometown, and that Holiday at Home is the best weekend of the year!
PAST GRAND MARSHALS
1965     Claude Cannon
1966     BG Glen McClernon
1967     Dr. G. Douglas Talbott
1968     James McConnaughey
1969     Vic Cassano
1970     John Shyrock
1971     Jack Wymer
1972     Cal Mayne
1973     Clark Haines
1974     Dwight L. Barnes
1975     Dr. Kenneth Arn
1976     Paul Shartle
1977     Chester Roush
1978     Don Williams
1979     G. Harold Bayless
1980     James Widman
1981     Glendora Hipple
1982     Urban Goecke
1983     Vernon "Skip" Lowe
1984     George Lehman
1985     Mack Hummon
1986     Charles Lathrem
1987     Melba Hunt
1988     Ervin Welch
1989     Robert & Marie Kilroy
1990     Dale & Virginia Kress
1991     Roger & Nancy List
1993     Roger Bauser
1992     Leigh & Sally Groby
1994     Al Jordan
1995     Jerry Barnett
1996     Walter Pettit
1997     Vince Chalecki
1998     Carolyn Wittmann
1999     Justin Stachler
2000     Tony Huesman
2001     Dick & Marcia Hartmann
2002     Kay Riordan
2003     Bill Mercer
2004     Jim Trent
2005     Bernie Wannamacher
2006     Bill & Marynel Bradley
2007     Jim Coleman
2008     George Bayless
2009     Pam Cochran
2010     Charles Goodwin
2011     Marilou Smith
2012     Don Parker
2013     Bob Ellis
2014     Charlie & Jackie Hazell
2015     Charles Schuerholz
2016     Jack & Arlene Akerman
2017     Frank Spolrich
2018     Neil & Willa Jean Smalley
2019     Jim Berlon
2021     Bob & Christy Montavon
2022     Dave Nogle